THE WALKING DEAD SEASON 6 EPISODE 9 'NO WAY OUT': REVIEW
Hooooooly shit. I could barely breathe as I clutched the remote control, anxiously watching the midseason premiere to see what could possibly happen scene after scene in one of the best Walking Dead episodes of the entire series.
'No Way Out' started with a bang. The first scene was the longer version of the scene in the midseason trailer with Negan's motorcycle gang. One of the only problems I had with this episode was why Daryl, Sasha and Abraham decided to stop at all. Word to the wise: if there's a large gang in the middle of the road blocking your way, throw it into reverse. Instead, our three Alexandrians who still haven't been back since leading the walkers away stop the tanker truck they're driving and get out.
*SPOILER ALERT*
After accosting their weapons, Negan's front man says that they're going to drive them back to wherever their camp is set up, presumably to jack all of their stuff and take the camp for themselves. He remarked that he usually starts off by killing one of them just to show who's boss as he points two guns at Abraham and Sasha while Daryl is led to the back of the truck to get any remaining items that they might want by another member of the gang. Sasha doesn't like it too much that he's readying to kill her new crush and cries out to stop him. He hesitates for a moment, acts like he's not going to kill them, then fakes the fake out and goes in for the kill once more. Before he can  pull the trigger, the entire gang bursts into flames. It's unclear what has happened at first, but then our hero Daryl emerges from behind the truck with Abraham's sweetest pull yet: the RPG launcher. It immediately broke Negan's henchmen into a million bloody pieces.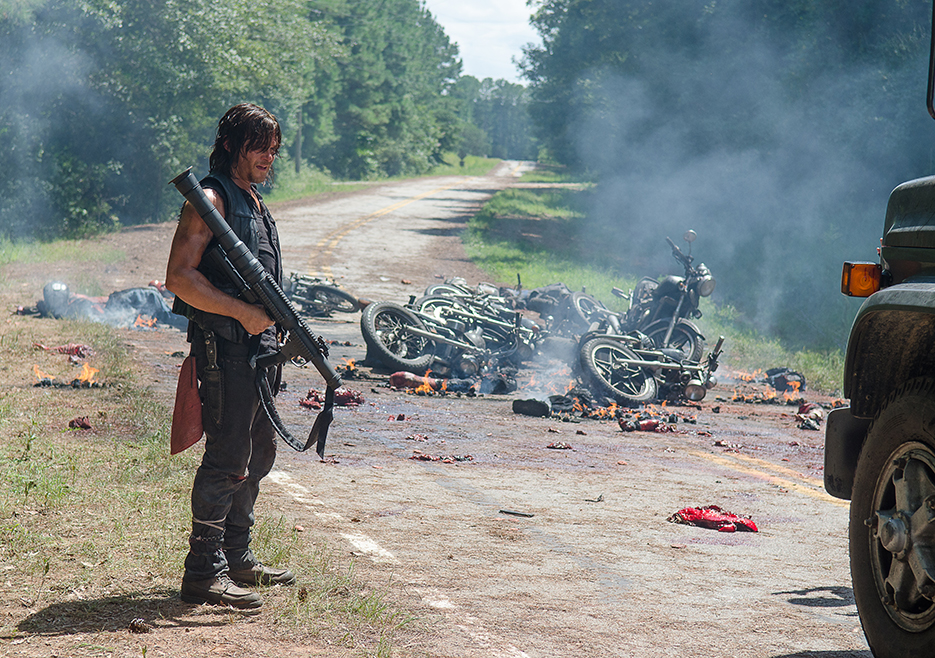 Back at Alexandria, Denise is being held hostage by the lone wolf that should have been killed by Morgan. He wants Denise to go with him back to his camp and turn her into one of them since she's got doctor skills, but while he is trying to save her from a zombie, he's bitten on the arm. She tells him she's going to save his life and they make their way back toward the infirmary, but not before Carol pops him from the house balcony.
Rick, Carl, Judith, Jessie, Sam, Ron, Gabriel and Michonne are still trying to make their way through the huge horde of zombies that have taken over their town. The zombie guts are working, masking their scent, and once they have a second they devise a plan since there are so many walkers. Rick suggests that they try to get to the vehicles back at the quarry and lead the walkers away with the noise as they did the first time. Gabriel takes Judith to his church, and though Jessie pleads with Sam to go also, Sam plays tough and says he can make it.
WELL, he can't. As I knew he would, Sam fucks it up for everyone (well, technically it's Carol's fault) as he starts to become anxious and scared of the zombies. Just a few moments of weakness are enough for the zombies to pick up on him not being one of them. They tear into him and rip him to shreds. Here's the only other part of the episode I didn't like: Jessie bites it too. It's understandable, as her son is literally being eaten in front of her, that she screams out and watches in horror…Carl and Rick's desperate urges to get her to keep moving don't work. I really thought she was going to be an integral strong female character, but if history tells us anything, TWD doesn't like those ladies to make it. I guess the joke is on me because I don't read the comic and that entire scene follows the comic. All I know is that Rick turned on the savage, primal part of his brain and chopped her hand off so she would let go of Carl as she was being taken down.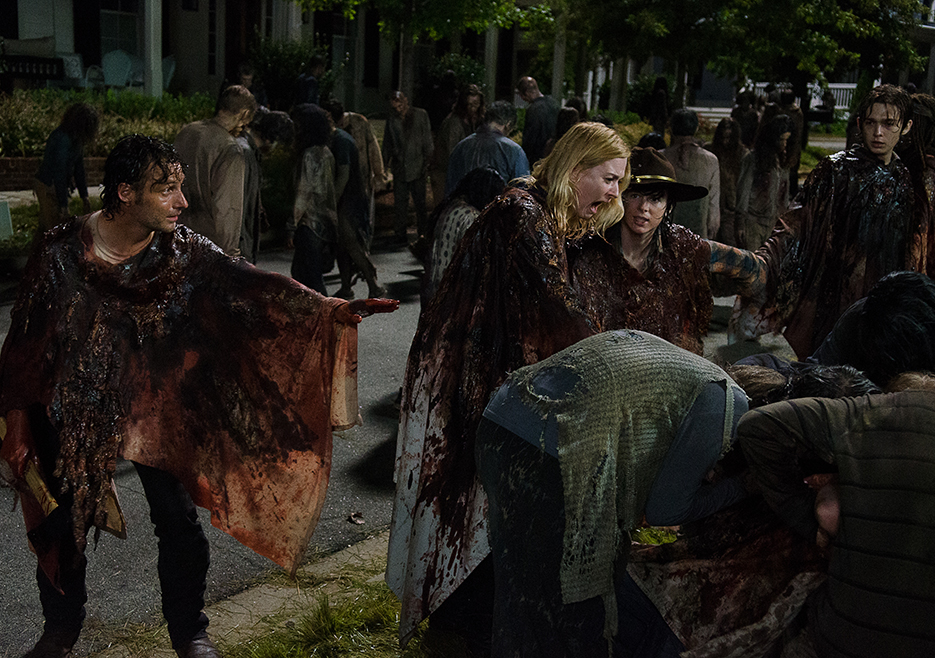 Ron doesn't do well with seeing the last of his family torn apart, in his mind due to Rick's plan, and grabs his gun, pointing it at Rick and Carl. As he is about to shoot, Michonne, whose badassery has been lying dormant for some time, finally wins her way back into my heart by plunging her sword into the back of his. The only problem is that as he goes down, he pulls the trigger, shooting Carl's eye out. We aren't sure if Carl is alive at first, but Rick grabs him and carries him to the infirmary just as he had when Carl was shot the first time. Good thing Denise made it there, because she's got to start suturing Carl's eye socket.
Rick starts to lose his shit here. His son might not make it and his new girlfriend just bit the dust. He grabs his axe, walks out the door, and closes it behind him. Then he starts to go HAM on the zombies in true Rick form. Many scenes were slowed down with no music, and the whole thing kind of feels like one big panic attack. Michonne is ride or die for Rick so she gets out there to help him. They're just a couple of badasses cutting up zombies, but there's so many that there's no way they could get them all without being bitten. All the citizens of Alexandria see that they need help and find the courage to fight…even Eugene and Gabriel, who have been completely useless up until now. The town is now in an all out war with zombies.
Glenn and Enid get back to town and see that Maggie is stuck on a platform with a horde of zombies about to take it down. Glenn freaks out and starts to shoot zombies to draw their attention away. As he is about to get killed once again, Sasha and Abraham come to the rescue with machine guns. Abraham is in his element now that it's war and is having the time of his life. Daryl sees that there's too many walkers to take on one by one, so he drains the truck's gasoline into the town pond and launches the RPG once again, this time creating a huge fire that attracts the walkers to it. With everyone working together, Alexandria takes down every last zombie.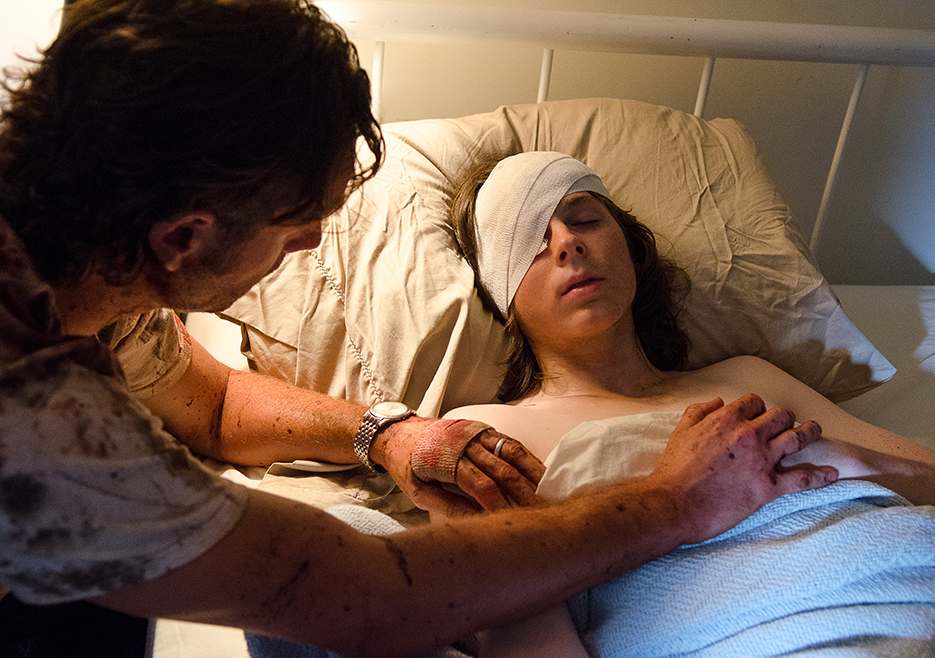 The episode ends on a hopeful note with Rick finally realizing that Deanna was right, that everyone is an equal part of the town, and that working together, they can get a lot more done than just his small inner circle. Everyone has now earned their place at Alexandria. In the final scene (completely reminiscent of the farmhouse when Carl was shot the first time) Carl grabs his Dad's hand, letting us know that he's made it out of surgery. (…Unless he's turned into a walker.)
Scenes from the rest of the reason indicate that we're going to be seeing a lot more of the Rick and Daryl tag team this season….about time.
All photos courtesy Gene Page/AMC