THE WALKING DEAD SEASON 7 PREMIERE 'THE DAY WILL COME WHEN YOU WON'T BE': RECAP
The Walking Dead Season 7 Episode 1: The Day Will Come When You Won't Be
(Air Date: October 23rd, 2016)
There are times when The Walking Dead doesn't do what I want them to do and I get frustrated (like when they killed off Laurie), and there are times that they do exactly what I want them to do and then I realize it wasn't what I wanted after all (like when they killed off Dale). In The Day Will Come When You Won't Be, I got what I wanted, and I'm sorry I ever asked for it.
*SPOILER ALERT*
I had a feeling we wouldn't find out right at the beginning of the episode who Negan decided to take out, and I was correct. We aren't given much indication of who it might be because the only people in view for the first few minutes are Negan, who acts like what he just did is no big deal, and Rick, who seems to be in a state of shock. Rick promises Negan he will kill him, so Negan takes Rick in the RV and brings him to an epicenter of walkers who are cloaked in mist, tossing an ax out the door and stating simply "Go get my ax." The exercise is to demonstrate to Rick that he is now the property of Negan, and that when Negan says jump, the only proper answer is "How high?"
Flashes of each of Rick's crew go through Rick's mind. He is responsible for them, and he feels responsible that this mess has happened when he led the charge against Negan.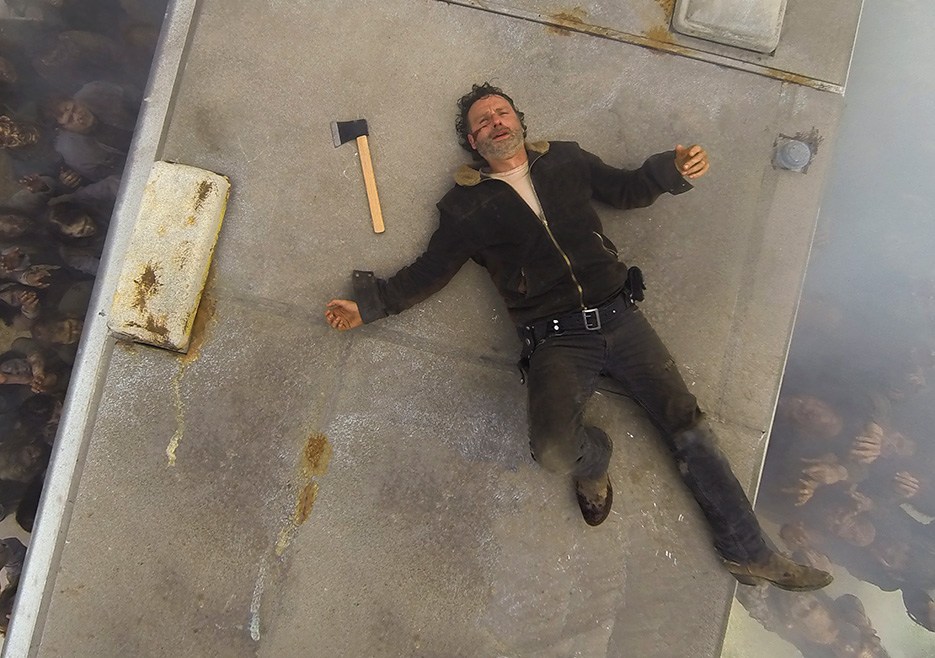 Rick makes it out of the walkers with a little help from Negan – it's apparent that Negan wants Rick alive, probably to wrangle his group and keep them in line for him since he knows Rick was their leader – key word being was. After some time away from the campsite, I thought to myself, wow, TWD pussied out. They're not gonna show the death. Then they went backwards and did show the violence – and I wasn't ready for it.
I had a hunch it was Glenn – it would certainly shock viewers since he escaped near death last season and everyone had been left on edge like they were in the finale. My husband guessed the victim would be Abraham. Unfortunately, we were both correct.
Abraham is Negan's first selection. Every gory detail is shown as Lucille obliterates his skull. Negan seems to enjoy the horror he's bringing to the group, because Abraham is long dead as Negan drives his bat down again and again until his head is in hundreds of pieces. Negan sniffs out that Rosita is the most horrified by his death and taunts her with the bat bearing Abraham's blood. Daryl can't take it anymore and punches Negan. Negan has specifically asked that no one in the group say or do anything, and that there will be consequences. Instead of killing Daryl, he chooses to make him suffer internally and drives the bat down on Glenn's head as penance for Daryl's acting out of turn – as if watching Abraham just get it wasn't enough. The act was truly shocking. Negan is sadistically laughing and telling Glenn how gross he looks as his eyeball bulges out, but Glenn knows that these are his final moments and wants to make them count. He looks only looks at Maggie and manages to choke out, in one of the few moments that have made me cry on this show: "Maggie, I'll find you."
I was not particularly attached to Glenn, but obviously losing another original character was a blow – and the way he went out was so devastating. Abraham had become a very important part of Rick's crew, and in the season six finale had been talking about how he wanted to have kids. Well, it's all over now.
The death scenes were by far the most disturbing scenes in the history of the show – and truthfully, one of the most disturbing scenes I've witnessed, period. The juxtaposition of how devastated the group was while Negan acted as if this was just a day in the life for him was interesting and as a viewer made me feel uneasy. It's been made pretty clear that Negan is not someone you fuck with.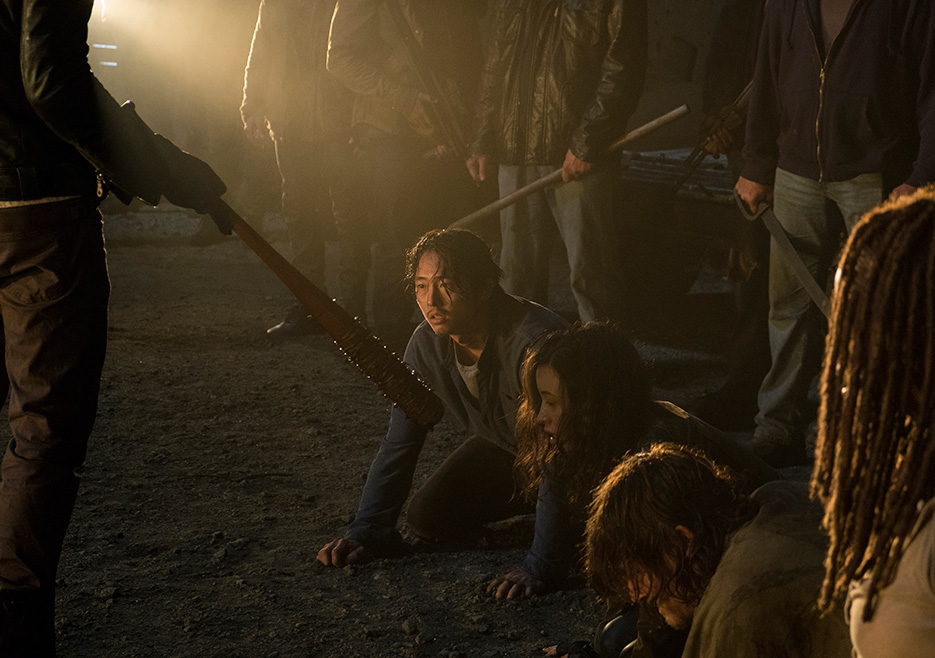 After Rick and Negan's outing, Negan isn't satisfied with Rick's attitude and decides to take a more personal approach. He brings Carl to the middle of the circle and demands that Rick cut off Carl's arm off or else he will start killing the rest of his group. Michonne pleads with Negan and laments that they get it now, that they know their place. Negan isn't so sure Rick feels the same and tells him again to cut his son's arm off. Andrew Lincoln was absolutely amazing in this scene as a broken man trying to protect his son, with no right answer available to him. Though Carl is only a teenager, he knows that his father has no choice, and instructs his dad to do it. At the last second, Negan stops Rick. This was an important scene as Carl stepped up to the plate – he very easily could have begged his dad not to do it, but he put the good of the group ahead of himself.
Negan thinks Daryl will fit in well with his group and decides to take Daryl with him, promising that any funny business from Rick's group will result in pieces of Daryl bring delivered to their doorstep. The group sits in silence for a moment after Negan's people leave. Maggie is a broken woman but she draws strength, saying that she is going to go to the Hilltop alone to get medical care. She feels guilty that they were in the woods in the first place and blames herself for what's happened – but, let's get real here, this whole thing is Daryl's fault and began when he let Negan's people go after they tried to steal his stuff. Maggie tells everyone to go back to Alexandria and prepare for battle; she's the only one who hasn't been made into Negan's bitch, and she wants vengeance for Glenn and her child. Everyone else understands that at this point, Negan is too powerful for them to overtake, and that they have a new way of living to adjust to now. Maggie accepts their decision, but I imagine her in a more prominent leadership role this season. The group helps her take Glenn's body, and Sasha and Rosita have a moment of understanding as Sasha explains that she's going to take Abraham's body.
Hope is Lost
Carol and Morgan and the group back at Alexandria were not in this episode, so I imagine we'll catch up with them next week. Everyone that was captured by Negan has been broken down – I won't be surprised if this season deals with PTSD again. Is there a therapist in Alexandria? Can I book an appointment?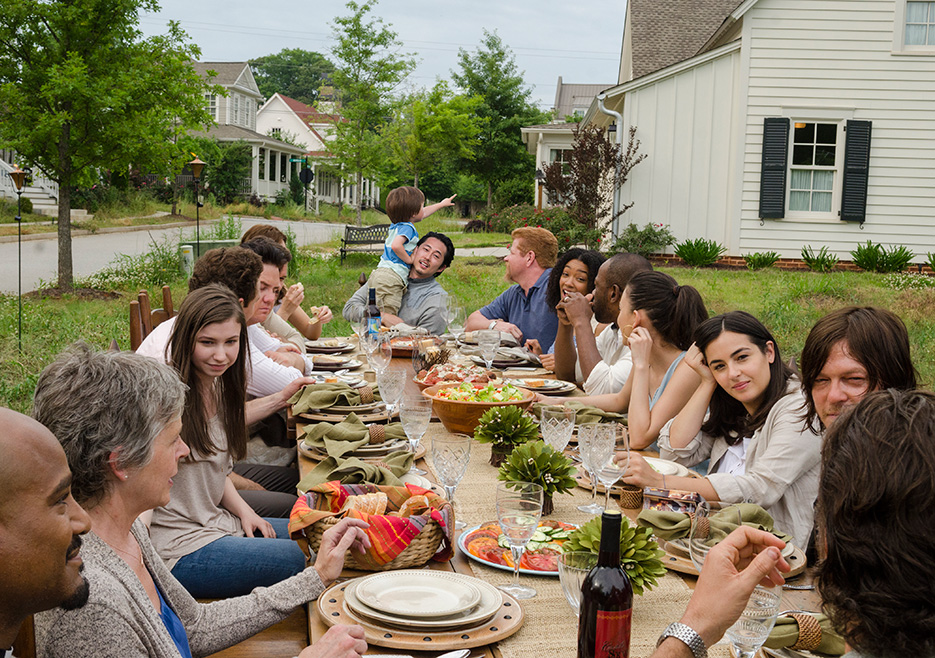 In the haunting final scene, Rick's imagination of a big family dinner in Alexandria is displayed in a dreamlike sequence, with Glenn at the head of the table with his future child on his lap, and Abraham by his side. This dream is not just a long shot, or a glimmer of hope anymore. The dream has been shattered into a million pieces that can never be put back together.
Images courtesy of Gene Page/AMC