THE WALKING DEAD SEASON 6 EPISODE 7: HEADS UP
*SPOILER ALERT*
In the worst kept surprise in television history, Glenn is alive. The Walking Dead Episode 7: Heads Up begins showing us how Glenn got himself out of a zombie horde all on his lonesome. As most people suspected, the body that was being ripped apart was that of his suicidal compadre, and as the zombies are digging into his intestines, Glenn maneuvers himself underneath the dumpster and waits it out for days until the zombies are distracted by something else and leave. Scrambling for water, Glenn is soon relieved when Enid chucks a water bottle at him.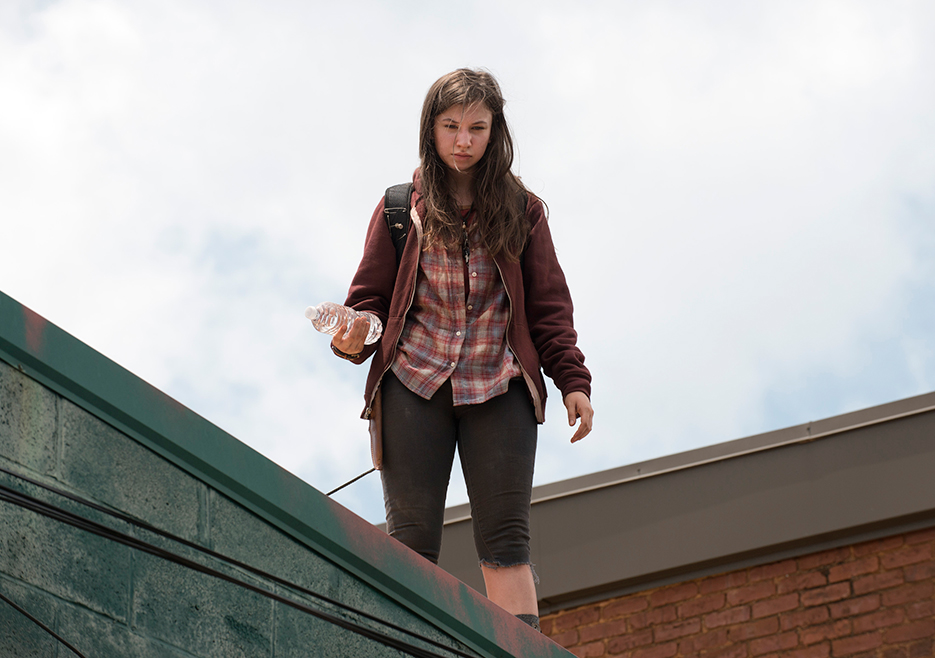 Back in Alexandria, Rick is apparently still pissed at the priest as he rips down a flyer for his prayer circle on his way to show Ron how to shoot. It's obvious to the viewer that Ron is angling to take down Carl the first chance he gets. He begins to concoct a plan of premeditated murder as he causes a diversion so that he can get himself into the gun locker.
I know you guys aren't going to believe this, but Morgan is being a little bitch again. Carol tattled on him to Rick about letting some Wolves go. Finally, Michonne is taking Rick's side.
Rosita begins teaching the Alexandria folks and Eugene how to use weapons so that they can defend themselves, but once again Eugene finds it all too much to handle. Rosita has enough of his shit and tells him that the worst part is not fighting; the worst part is watching people you love die because you weren't brave enough to fight.
Glenn catches up to Enid and practices his best dad skills, disallowing her to go on her own even though she wants to leave. She wants to leave before more people die around her and even pulls a gun on him, but he easily takes the gun away and finally convinces her to come back with him. They find some balloons and let them off as a signal to Maggie that they are still alive.
Spencer, a yuppie who has never had to deal with any real turmoil in his life, gets the grand plan to use a rope to scale outside of the walls, but he's drunk again and obviously not in the best physical shape so he needs immediate assistance. Tara starts shooting zombies beneath him to get him out of harm's way. Rick flips out, and Tara flips him off. Rick still has an "us vs. them" mentality that he just can't seem to shake.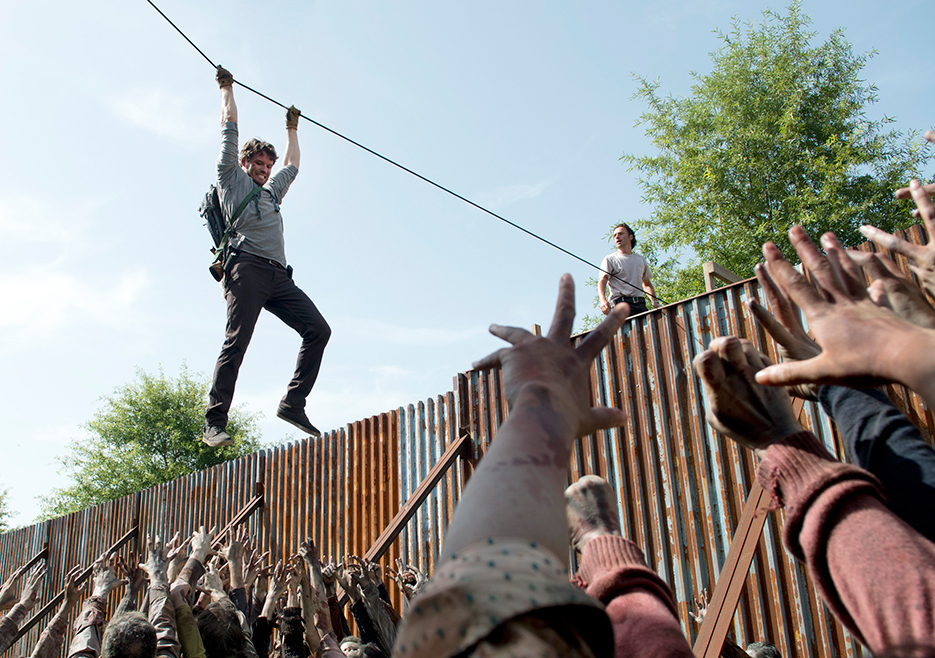 Carol finds Morgan slinking around with the doctor and knows he's up to something, so she decides to follow him.
Rick is working on building up the perimeter walls with Alexandrian Tobin to keep zombie hordes from breaking them down. Carl is about to have himself a dicey situation when a tower outside of the walls collapses, opening a huge area for zombies to come in. How are they going to get them out, and how are Glenn and Enid going to come back? And where the hell are Daryl, Sasha and Abraham!?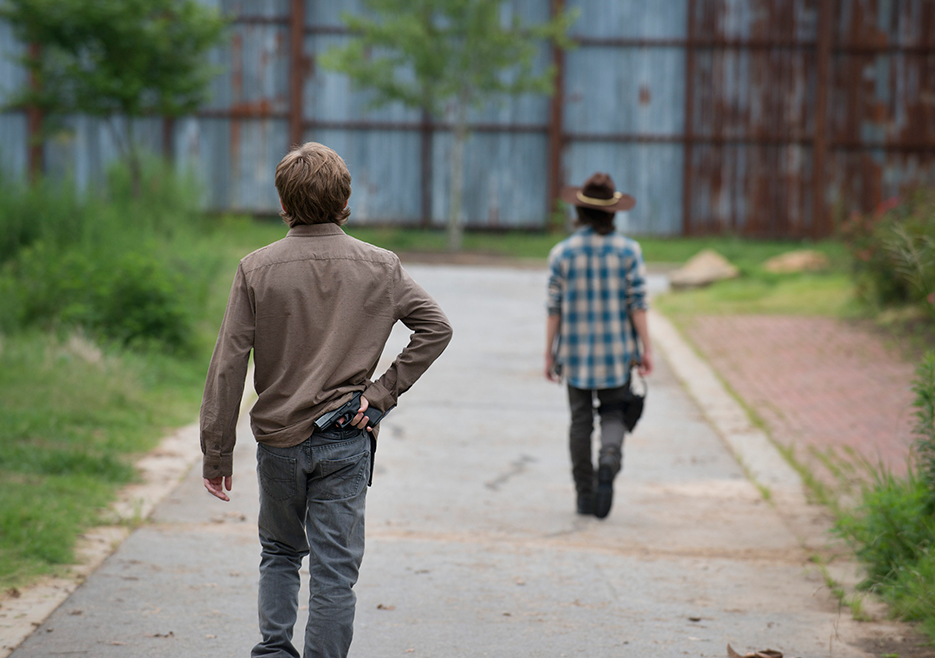 Photos courtesy of AMC