THE WALKING DEAD SEASON 6 FINALE: "LAST DAY ON EARTH" REVIEW
The Walking Dead Season 6 Episode 16 "Last Day on Earth" Review
…but whose last day on earth is it?
*SPOILER ALERT*
We're gonna have to wait until October to find out.
Let's start at the beginning.
Maggie is apparently NOT being eaten from the inside out by a zombie baby, as I and many others suspected was happening at the end of last week's episode. She's not doing too great, though, and so Rick, Abraham, Eugene, Aaron, Sasha and Carl all load her into the RV to get her to the doctor at the Hilltop. Enid is being annoying again and is trying to go on the trip with them, so Carl tricks her by telling her to grab a gun out of a closet and then locks her in so she can't leave. Everyone is geared up and ready to fight, and apparently Gabriel the priest is in charge at Alexandria in Rick's absence? Not sure how that happened, but he assures Rick that if things go south while all of the good fighters are gone, they have exit strategies and he'll be sure to take care of Judith. (Did anyone besides me forget Judith existed?)
Everyone is pretty jacked up to fight, but they've got to get Maggie help first, and Rick isn't too happy when he sees that the road is blocked, presumably by Negan's people. Everyone calmly gets out of the RV and Rick tells the group that they're not going to fight…he wants to take the group out on his terms. Before they back the RV up, the leader of the group tells Rick, with a smile, to treat the people in his group like it's their last day on earth.
Morgan is still on a mission as he finds a horse (and apparently is an expert rider. The whole thing is very Rick Grimes Episode 1), clopping around town until he finds Carol, badly hurt and looking like she's giving up. He tries to force her to come back to Alexandria with him, but she's not having it, explaining that as long as she's with people she cares about, that means that there are people she would kill for, and she doesn't want to deal with that. When he goes to check on a walker that's making some noise, she leaves, and he has to go search for her once again.
Back to Rick's group. They go another way, only to find the road blocked once again by Negan's people…but it's a different group. They back it up again, and try a third route. Well, guess what? Negan's thought of every way that they could take, and he's got this one blocked off with a chain of walkers, each bearing a piece of clothing or hair from the people from Alexandria that his people have captured. Rick sees Michonne's hair and starts to get seething mad, but he's got to keep it together in front of a quickly deteriorating Maggie, sweetly reassuring her that they will make it to the Hilltop as she delivers the gut wrenching sentence "I believe in you." (Another Season 1 throwback as he assured the guy who was bitten that they would get him to the CDC?) Rick's been making an awful lot of promises that he may not be able to keep, and he's starting to realize it.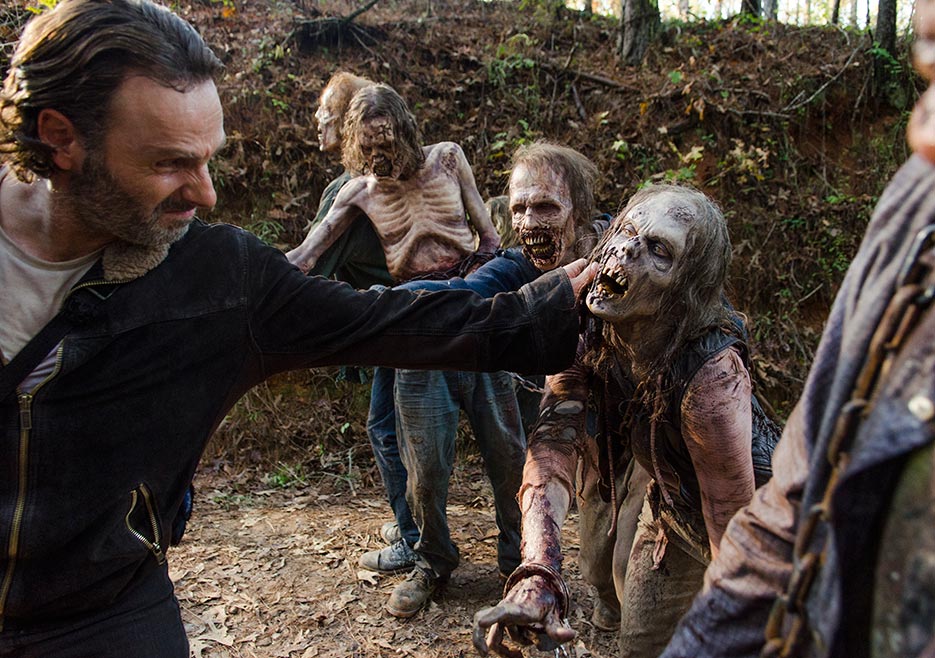 Back to Carol. The guy she wounded but didn't kill from Negan's group finds her and decides he's going to let her die slowly as he watches, so he shoots her in the arm and watches her struggle. She seems pretty okay with dying, and even encourages him to finish her off. Instead he shoots her in the leg. I don't really know what the hell they are doing with her character. I was pretty indifferent about Carol until she got to Alexandria and became a certified badass, and then I was all about her. Why are they all of a sudden making her go back to Season 1 Carol, who would do anything to avoid conflict? The Walking Dead seems to have a hard time keeping strong, dominant females on the show, killing them all off or backing their strength way off like they've been doing with Michonne. Anyway, Morgan shows up to save the day, and proves Carol's theory right as he shoots the guy in order to save her. Two guys, one of them who owns the horse that Morgan has borrowed, show up and offer help. I don't know who they are, but I've got a pretty good feeling about them.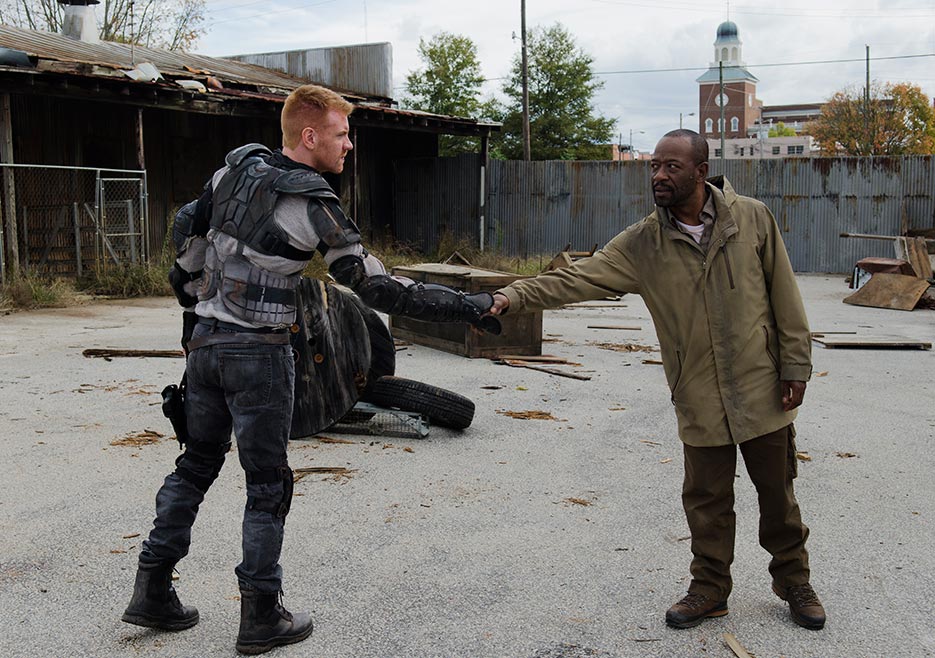 Eugene comes up with the idea to be the sacrificial lamb to save the group. He gives Rick instructions on how to create ammunition before taking the RV through the road to distract Negan's people, allowing everyone else to carry Maggie through the woods safely on foot.
Except it doesn't go that way. It isn't long before Rick's group is completely surrounded, and MAN did they underestimate the size of Negan's gang. They all come to a clearing, completely surrounded by hundreds of their enemies.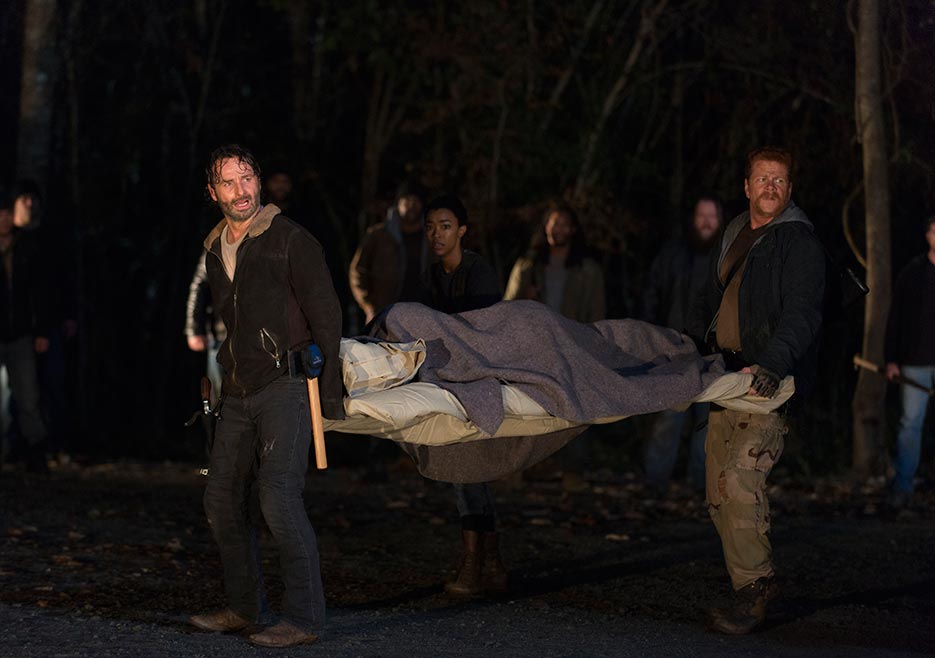 And then….we get to meet Negan. It was worth the wait.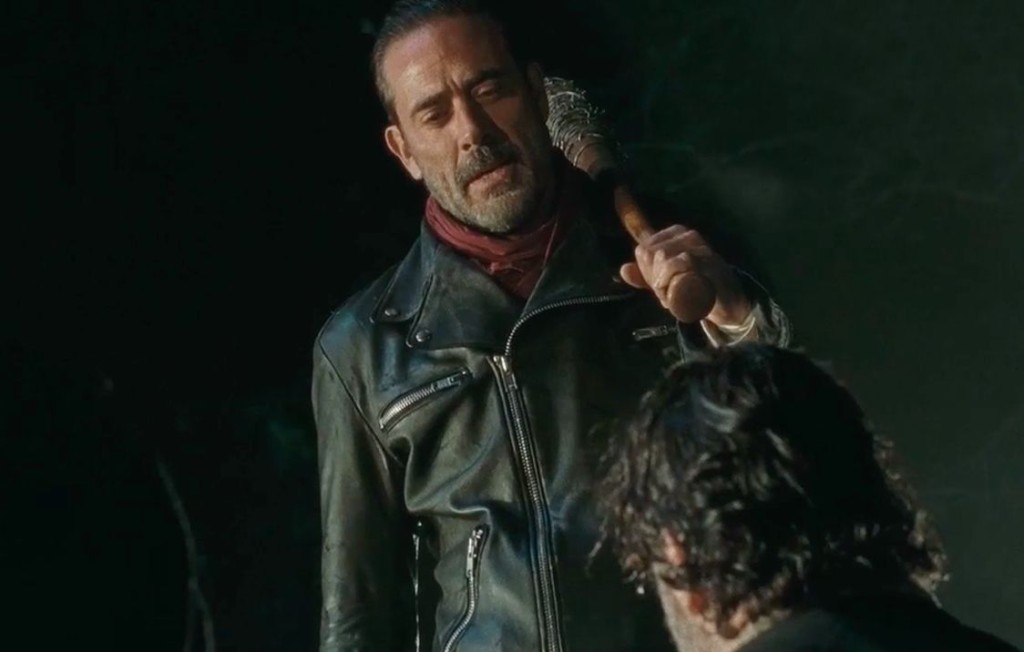 He steps out of their RV (they obviously captured Eugene with no trouble at all), introducing himself and explaining that he's not really happy about Rick's group killing a bunch of his guys. He seems like he might be impressed with their skills, as instead of killing them all, he wants them to work for him like the people at the Hilltop Colony have been doing. However, he can't just let them get away with killing his men, and announces that this whole thing has been orchestrated so that he can choose which one of the group he will beat to death in front of them with his barbed wire bat that he affectionately refers to as Lucille.
As the group kneels before him, he goes back and forth, making a game out of deciding who to kill. The intensity is insane…just try to watch it without your stomach getting tight. (By the way, this was some of the best acting from TWD cast. They truly look alarmed, scared, and sick.)
He finally lands on his victim, and starts to beat them to death…but wait a minute. WE DON'T KNOW WHO HE'S KILLING. Like, no indication whatsoever. The camera is from the perspective of the person being beaten, and yes, they once again used the stupid, fake looking blood on the camera. (WHY??) I rewound the scene a few times to try to figure out where in line Negan was standing in accordance to where everyone was kneeling, but they didn't give anything away. Not cool. We've been waiting with bated breath for Negan to kill someone, and when he finally does, you make us wait until next season to see who it is!? It doesn't make any sense to do it as a cliffhanger, and really just pissed most of the fans off. Not to mention, the comic book fans are bound to spoil it while we wait.
On a different note…I LOVE Negan (Jeffrey Dean Morgan, who so far, seems perfectly cast.) I found his swagger very attractive. Maybe that's the point, considering serial killers are normally good looking, likable people who just so happen to be completely twisted. Or maybe I'm just sick. Let's save that can of worms for another day.
Overall, the 90 minute episode was intense, but practically nothing happened. Not what I expected, considering the second half of this season has been action packed and arguably some of the best episodes of the series.
I obviously have some theories about who Negan killed, but I won't say in case I'm right. I've just got one question: why did Jesus not tell Rick what he was about to go up against? I don't trust this guy. I also believe that Eugene's ammunition plans are going to be integral to Rick's group eventually TCB. Guess we'll have to wait six months to get any answers. God damn you, Walking Dead.