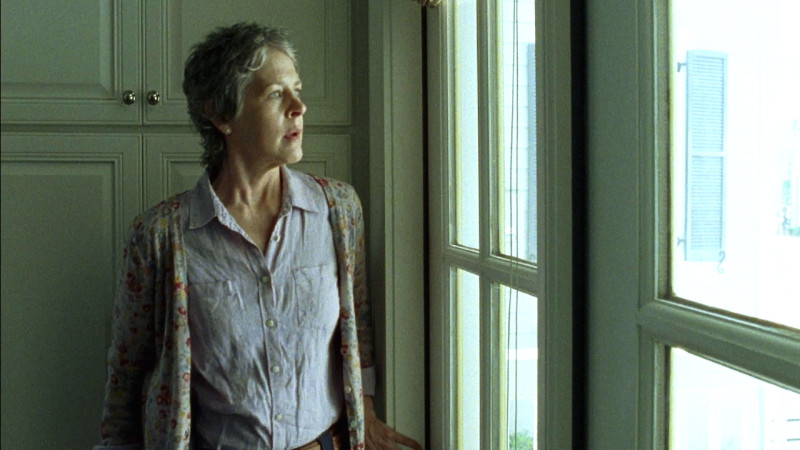 THE WALKING DEAD SEASON 6 EPISODE 2 "JSS": TV REVIEW
The Walking Dead JSS: Season Six Episode 2 (Air Date: October 18, 2015)
JSS, the second episode of the sixth season of The Walking Dead was much more explosive, intense and entertaining than the first.  This episode would have done much better as a season opener than First Time Again.
The episode opens with the backstory of how Enid, the girl Carl has been crushing on, arrived at Alexandria. She has traveled much of the road alone and everywhere she goes, she can be seen writing "JSS."
*SPOILER ALERT*
The so-called Wolves we briefly encountered last season have obviously been watching Deanna's community and planning for a while. When 90% of the best fighters in the group leave to address the walkers in the quarry, they take the opportunity to move in. A startling scene that doesn't happen often in this series came when Carol was looking out her window watching her neighbor, smiling to herself because she had influenced the woman not to smoke inside, when the woman is suddenly attacked with an ax by a large, dirty man. The scene was totally unexpected and was such a great horror television moment.
The Wolves' cause is unclear because they aren't trying to take over Alexandria, as evidenced by the fires started and the semi they crash into the barrier. (We finally learn that the most annoying sound on earth drawing the walkers away from the road is the semi's horn after the crash.) Their motive seems much more sinister. They have no guns but are so savage that they use hammers and fists to beat members of the community to death.
A New Hero
Carol, my new favorite on the show, is a badass as she takes matters into her own hands by killing one of the Wolves, taking their clothing, covering herself like a ninja, and drawing a W on her head in blood in order move undetected toward the gun locker. She ends up killing the majority of the Wolves.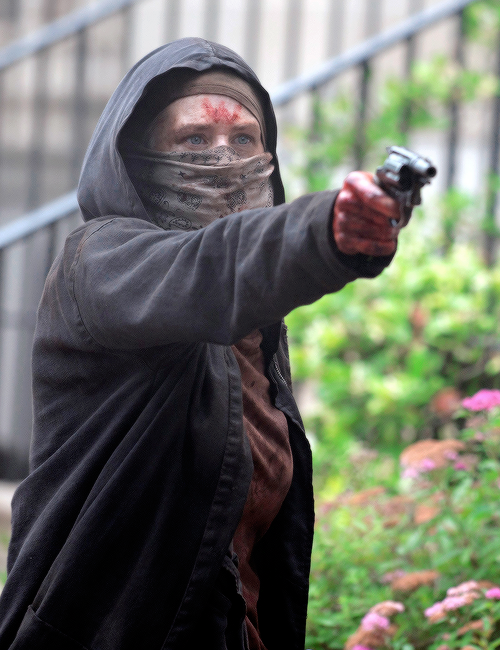 Meanwhile, Deanna is losing it as she hides in the semi while her community is under attack. Her yuppie son Spencer isn't any help either, and he had no business being in the watch tower with a sniper. Jessie steps up though, maniacally killing a Wolf that entered her house with a pair of scissors, taking out her frustrations as her oldest son Ron watches.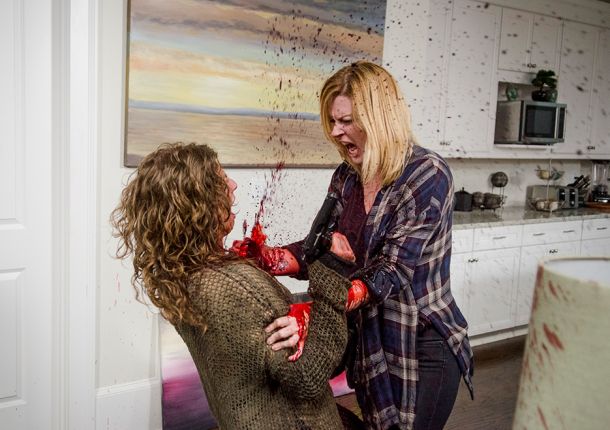 Morgan Continues to Fuck Up
The new doctor in town isn't quite cutting it as she loses the only patient brought to her during the attack. Morgan, somehow first on the scene from Rick's group, isn't doing much to help, either. He is really pissing me off. He refuses to carry a gun because he wants to prove to everyone that you don't have to kill humans in order to stay safe, but he's putting everyone in jeopardy. My guess is that Rick isn't going to be too happy when he hears that Morgan let some of the Wolves go. The last scene we see Morgan in, he has used his stick to strike a lone Wolf, but we don't know if he has killed him or knocked him out. (I'm hoping for knocked out on this one so we can get some answers from this guy! Although I'm sure Morgan will be opposed to torturing for information, too. Get over yourself, Morgan.)
JSS
At the end of a bloody battle, the timer goes off in Carl's kitchen, indicating that it is time to take dinner out of the oven.  The juxtaposition is interesting showing that moments after killing people, it's time to snap back into a more "normal" life. Carl finds a piece of paper has been slipped under his door by Enid, stating simply "Just Survive Somehow." (JSS!)

The episode was a backtrack, showing what was happening while the other members of the group were moving walkers out of town. We've only just caught up to their plan being foiled by the horn. Here's hoping when Rick gets back to town that Carol can step up with a larger leadership role and the two of them can make some much-needed adjustments to Alexandria.