CREEPY KIDS ARE TAKING OVER IN 'THE TERRIBLE TWO': WATCH THE TRAILER
Writer/director Billy Lewis is bringing us not one, but two creepy dead kids (and one creepy mom for good measure) in the indie horror The Terrible Two trailer.
The film is based on a couple who have lost both of their daughters in a tragic accident.  Though the father, Albert (David Reid), seems to have moved on, the mother, Rose (Cari Moskow), continues to struggle to come to grips with the loss of her girls.  One the anniversary of their death, things begin to darken in their house. Rose discovers an old manuscript in the attic that reveals things about the previous owner of the house that wasn't revealed to her and her husband. Rose begins to experience some paranormal happenings and even feels compelled to do things that she wouldn't normally do, and is convinced that it is her daughters speaking to her. The film begs the question, 'Where do little girls go when they die?'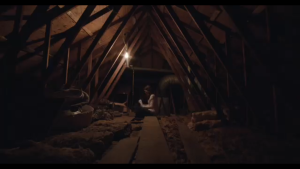 Watch the Terrible Two trailer now. The film does not yet have a release date.