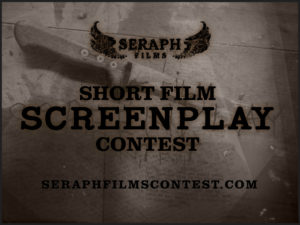 LOS ANGELES- Seraph Films has announced the launch of its inaugural short film screenplay contest, where the winner will have his/her script produced by the Seraph Films team, with a red carpet premiere at Seraph's Halloween Film Night in 2017.
Building on the community-focused model of Seraph Films' popular "Horror Haiku" web series, this competition offers all writers a chance to have their projects come to life. The competition is focused on horror and thriller projects, along the lines of Seraph's bevy of short films, which are largely available on their YouTube channel. Seraph's most recent web series "The Disappearance of Madison Bishop" also features a community approach to storytelling, and this contest marks the next step along that path.
Gene Blalock, director and founder of Seraph Films, said, "Seraph has always sought to involve the independent horror and thriller communities as much as possible, and this contest will enable us to do that more than ever before. Our hope is that this contest can jump-start a writer's career and give them something tangible to be proud of."
Submitted scripts will be assessed by Seraph's development team and then narrowed down into quarter-finalists, semi-finalists, and eventually finalists. Semi-finalists will all receive one or two paragraphs of story notes, and finalists will receive a phone or Skype consultation with the contest judges. Writers may enter the contest on Seraph's website or via FilmFreeway. Entries are open until January 31st, 2017.
The film will be listed on IMDb and the winner will receive guaranteed writer credit on the project. The film will ultimately be available for worldwide viewership on Seraph Film's YouTube channel alongside its other award-winning short films. Seraph Films is offering up to $10,000 in production financing depending on the script's needs and merit.
Early Deadline – Nov 1st, 2016 – $30 / $25 Student*
Regular Deadline – Dec 15th, 2016 – $35 / $30 Student*
Late Deadline – Jan 15th, 2017 – $45 / $35 Student*
Last Chance Deadline – Jan 31st, 2017 – $55 / $45 Student*
More information on the contest and submission guidelines can be found here.
Seraph Films is an independent production company, driven by a passion for original and meaningful film and TV projects. Seraph specializes in horror and thriller stories, and to date has produced 18 short films, 3 web series, and a feature-length documentary, that have collectively won dozens of awards domestically and internationally. Seraph is based in Los Angeles, California. Visit www.seraphfilms.net.