John Carpenter's 1978 Film Halloween In Theaters
At a one-night only event on October 29, John Carpenter's Halloween was screened in select theaters nationwide, and we were lucky enough to see arguably the best horror film of all time on the big screen. My mother had explained to me many times just how terrifying it was to watch it in the theater, but there's no way to describe it unless you've done it yourself.
Before the film began, trivia specifically about Halloween was presented to give a better picture about the film and how it was created.
Some were facts weren't news to avid Halloween lovers like myself, such as that Jamie Lee Curtis's wardrobe was purchased at JCPenney for $100, or that the movie was originally named The Babysitter Murders. There were a few interesting factoids I hadn't heard, though: Laurie Strode was named after Carpenter's ex-girlfriend, and the film was shot in the springtime in California, so they used painted fake leaves to blow around to represent an autumn day in Illinois.
The film was prefaced by a Q&A with director John Carpenter and began with explaining how he got his film chops at USC.
After graduating, Carpenter met with producer Moustapha Akkad and agreed to work with him on Halloween under two conditions; John's name would appear above the title, and he would get final cut.
Carpenter explained that once he met Jamie Lee Curtis, he had a gut instinct that she would be right for the part; Donald Pleasence signed on to do Halloween because he owed his ex-wife alimony and because his daughter had seen Carpenter's Assault on Precinct 13 and loved it. As for the score, Carpenter said he came up with it after the movie was finished, and that he likes to think of music in his films as metaphoric carpeting, cohesively bringing you from room to room (scene to scene.)
The idea of Michael Myers killing his sister had no real rhyme or reason to it; Carpenter explained that we don't know why he killed his sister, or why he was so set on continuing his killing spree. He goes on to mention that there is a supernatural element to Michael being that no one can seem to kill him.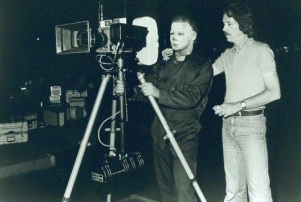 Carpenter's movie was an independent film working with a small $300,000 budget, so its success was unprecedented and unexpected. It was released regionally, and when critics first saw the film they gave it terrible reviews; once movie-goers saw the film and loved it, word of mouth carried it through theaters nationwide and the reviews got better and better. (Pretty impressive in an age with no internet.)
Halloween was one of the first films to use steadicam, and Carpenter says that the movie was shot in widescreen specifically to be viewed on the silver screen, and that the real way to see the film is to see it in the theater. He's right; there's nothing quite like hearing that terrifying score on the big screen.
If ever it screens in your area, be sure to take the opportunity to view Halloween the way it was meant to be seen.