INTO THE GRIZZLY MAZE: FILM REVIEW
The Nightmare Network
Rating:

3.5

/ 10
INTO THE GRIZZLY MAZE: FILM REVIEW
3.5
Into the Grizzly Maze (2015)
My friends and I have an affection for James Marsden. He's overall a pretty bad actor but he's so goddamn lovable, so we like to pick up his movies and watch them together as we make fun of the terrible lines. Enter: David Hackl's Into the Grizzly Maze.
The film begins with a flashback that Rowan (Marsden) has as he is traveling to his home state of Alaska. In the flashback he and his brother Beckett (Thomas Jane) are kids and have an encounter with a bear, and we assume that his brother is killed…until later when he meets up with him. (This interaction and its significance are never explained.) Then we see some hillbilly bear poachers who are taken into what is called the Grizzly Maze part of the wild (because even the bears get lost down there) by Johnny Cadillac (Adam Beach, the worst actor in the world.) The poachers are viciously attacked by a large grizzly bear.
Rowan has been in jail for the last seven years, so he meets his brother's wife (Piper Perabo), a wildlife photographer, for the first time. Oh yeah, and she's deaf. She obviously has no business going into the woods by herself, so she rigs up a lame trap for bears (what the hell kind of wildlife photographer is she!?) but that doesn't work out so well and Rowan has to come to her aid.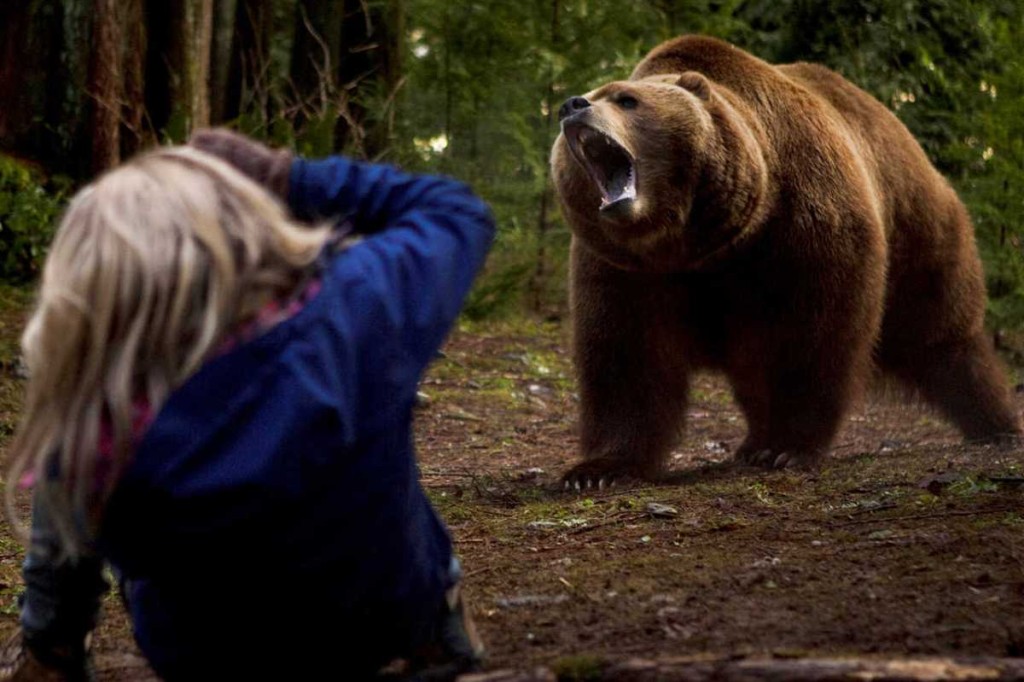 At first the bear was only attacking bad people…was this bear a protector of the environment? …No, just a bear, hunting people ala Jaws. Or, as Billy Bob Thornton's character Douglass would say, "he's pissed off."
Douglass is a bear hunter who went rogue after almost being killed by one in the past. He's become an expert tracker and the sheriff (Scott Glenn) asks him to kill the grizzly responsible for the slayings of two loggers and one person on his team who was mauled (his acting was so terrible that he couldn't feign concern as he listened to her being eaten on the walkie.) The movie is full of genius quotes such as "I've been waiting my whole life for a bear like this. Can't believe it's taken this long."
The movie is predictable and plays as sort of a cautionary tale of how you shouldn't mess with mother nature. I'm down with that, but the back stories and how all of the characters intertwine just got a little ridiculous and didn't play into the point of the movie at all. They even lead you to believe that Johnny Cadillac might jump in to save the day, but he never did. (We're guessing that he dipped out of the movie halfway through production. If Adam Beach is ditching your movie, you know you've got a problem.)
Jessica's Final Review
3.5
The film goes a little too much like Predator at the end for my taste, and I DO NOT believe that wild animals should be used in movies...that's what computer generated animals are for. Zero scares, terrible acting, a little bit gory, but lots of laughs if you watch with friends.