EXCLUSIVE: INTERVIEW WITH 'DEMONS' STAR LINDSAY ANNE WILLIAMS
Lindsay Anne Williams, known for the acclaimed short Two Birds (2016) and feature The Hollow (2016), takes some time to tell us about her new film, Demons. Williams reunites with writer/director Miles Doleac for the horror film, which hits theaters and VOD this October. Williams plays Kayleigh, a woman – married to former priest and writer Colin (Doleac) – whose sister has come back from the dead to haunt her.
When did you get involved with Demons?
I was up in it right from the start.  I was there before the synopsis had even been finished and read every draft of the script as Miles developed it.
And it's not the first time you've worked with Miles. Can you tell us when that working relationship began?
Miles and I met outside of the entertainment business.  We were both pursuing degrees at Tulane University.  We met in an Ancient Greek course, but after our friendship developed, we discovered that we had more in common than just our passion for (and ability to) read THE ILIAD and/or Augustine's CONFESSIONS in their respective original languages.  The first time we truly worked together on a film was after we had a great experience on a short film in Louisiana that really inspired both of us.  The first film we actually worked closely on was Miles' first feature film, The Historian.  For that film, I was there, reading over Miles' shoulder as he wrote, watching the screenplay take shape.  I played a small supporting role in that film, but I was also the costume designer (yet another one of my passions, and incidentally, my day job).
How has that relationship evolved? Is it better to work with someone you're familiar with, than a new party?
I think in the beginning, Miles wasn't sure exactly how much I would be willing or able to contribute, but as he's gotten to know me better artistically, he's begun giving me much more to handle and more credit.  For someone who seems to be something of an island, he's put a lot of trust in me and I think that's borne out in our artistic endeavours.  I really enjoy working with Miles, as complicated as it can be at times.  I can be a (little more than a) snob sometimes, and it's really hard for me to trust people, but Miles and I have pretty similar artistic tendencies.  We've worked together so much and for so long that there's a lot I can say to him, and he to me, that wouldn't be possible with anyone else.  It's good and bad, but in the end, I think we work that much harder to impress the other, or to be good enough for the other that our work and our collaborations continue to get stronger and tighter as we progress.
That being said, it's nice to work with other people who don't know you so well.  They don't know your limitations so you get to push beyond them because they don't know not to ask you to. But there's also less expectation, because you don't have to top your last performance for that person.
And as an actress, do you feel you improve with each film?
God, I hope so.  Some of it has to do with being trusted with more material and bigger, better characters.  But I know that I'm a much more confident performer than I was even three years ago.  I think that each film has helped me grow, yes, but I also perform on stage every chance I get.  And you're never more vulnerable, more raw than when you're in your underwear (or less) on a stage, inches away from your audience, asking them to sympathize with you for aborting your boyfriend's baby.  I know that by working, I get better, so I try to never let too much time lapse between any projects I may be working on.  So much so, that I currently have three overlapping shows.  That confidence and maturity, I think, does make a difference in my performance.  But I've also had the tremendous fortune to work very closely with some amazing veteran actors.  Watching Bill Sadler or Andy Divoff is like a masterclass, and getting to be across from them and having to try to match them so as not to disappear in the scene is a great challenge.  How can one help but get better?
What was it about the character that interested you in Demons?
Miles wrote it with me in mind, so I couldn't really say no.  I do, however, like the fact that Kayleigh is a strong individual…strong in a very different way from myself…and she's a woman, and unapologetic.  How many of those roles do women my age come across, honestly?
Who gets the credit for the look of the character?
That's kind of a three-pronged answer.  Miles had a pretty solid vision of what Kayleigh looked like and how she presented herself to the world. Our costume designer Halley Sharp and hair and makeup head Ashleigh Courtney translated that pretty nearly exactly. I obviously got to throw my little twists in there, as well.
Did you flesh out a backstory for her – even if it didn't make it into the movie?
A lot of her backstory is in the film, but there is a dynamic between Kayleigh and her father that isn't as developed.  Working with Andy (Divoff), and getting to bounce off and build from what he was doing created this really interesting tension that I hope gets to come out more…maybe in the sequel.  Cough cough…Miles…cough cough.
In which ways could you relate to your character?
Her relationship with her sister was one that I could definitely identify with.  Watching someone you love go through something incredibly difficult (self-inflicted or otherwise) and not being able to help, not knowing who to blame and watching the whole thing from the sidelines is incredibly frustrating.  I think, a bit like Kayleigh, I try pretty hard to move beyond negative things in my past…maybe even to the point where I forget some of the good stuff, too.
I suspect there's more than meets the eye here with the movie. Will we discover a horror movie with a deeper, underlying narrative that you don't want to give away?
Oh, yes.  I think with the premise that a priest messed up an exorcism and left the priesthood to marry the chick's sister, there has to be so much more twisty stuff along the way, right?
What else have you got coming up?
Well, I am feverously trying to convince Miles to write a sequel to Demons!  Also, I am the president of a non-profit community theatre organization, Hattiesburg Civic Light Opera.  We have embarked on a jam-packed season with almost twice as many shows as we normally do.  We just opened our season with a riotous production of "Hedwig and the Angry Inch" that we've been asked to reprise at a club in Jackson, MS. We are currently producing a Shakespeare in the Park production of "Macbeth" on a private 3-acre, 19th century B&B and its accompanying lands.  I have the immense and terrifying honour of playing Lady Macbeth, a role that has long been my dream to play.  The director is taking it in a really fun, post-apocalyptic direction, that I think audiences are going to really dig.  And on the heels of that, I'll be directing "White Christmas" for HCLO in December.  But Miles and I are always scheming and concocting and dreaming of new worlds we can explore in the next film.  And be assured, there will be new worlds.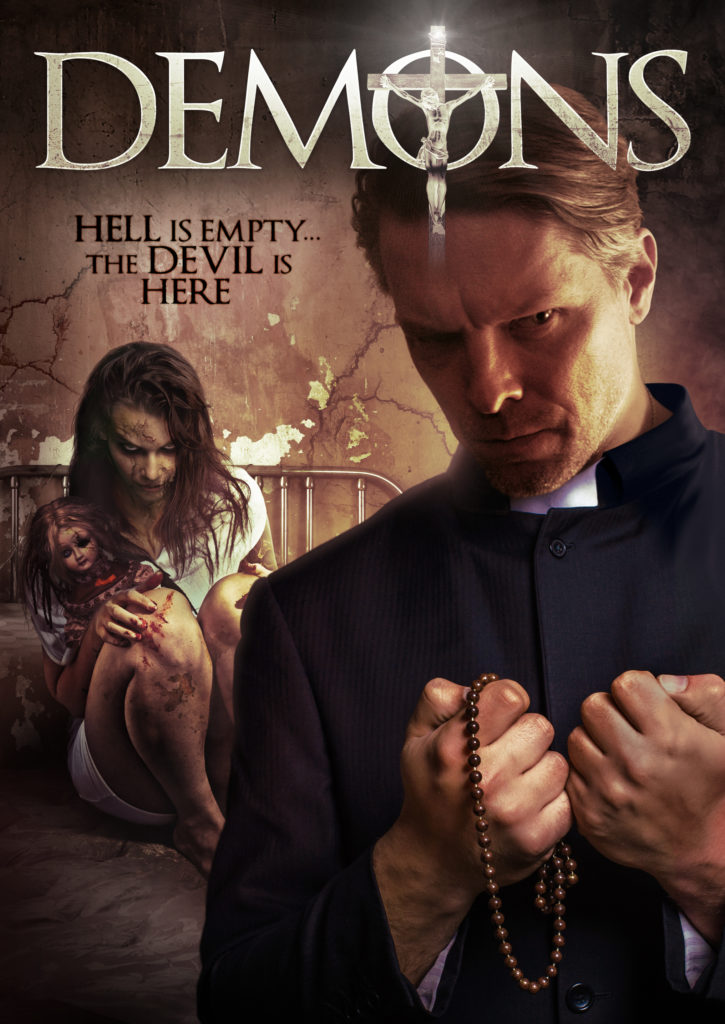 Demons will be available on VOD and in theaters October 6.