HEATHER LANGENKAMP RETURNS TO HORROR IN 'HOME': WATCH THE TRAILER
Scream Queen Heather Langenkamp of A Nightmare on Elm Street series fame is back on the front lines of horror in Frank Lin's Home.
The official synopsis: "Carrie is a religious fundamentalist. But her mother decided to come-out-of-the-closet and marry another woman, which they have a daughter together with. Now, she is forced to move into a new house with people she cannot accept. The story takes place over the first two days at the strange house, as Carrie's new parents leave for a business trip and she must now take care of her step sister. As creepy occurrences lead to full blown terror, Carrie must learn to overcome her own fears and believes to save her little sister."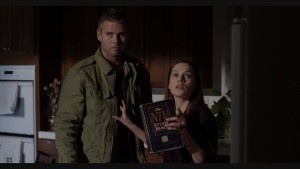 Langenkamp drew a cult following after appearing as final girl Nancy in three Wes Craven Nightmare films: A Nightmare on Elm Street, A Nightmare on Elm Street 3: Dream Warriors, and New Nightmare.
Home also stars actor/singer Samantha Mumba (Boy Eats Girl) and Lew Temple, who played Axel in The Walking Dead.
Watch the Home trailer now. The film is available for pre-order and will officially be released on DVD and VOD on March 1.