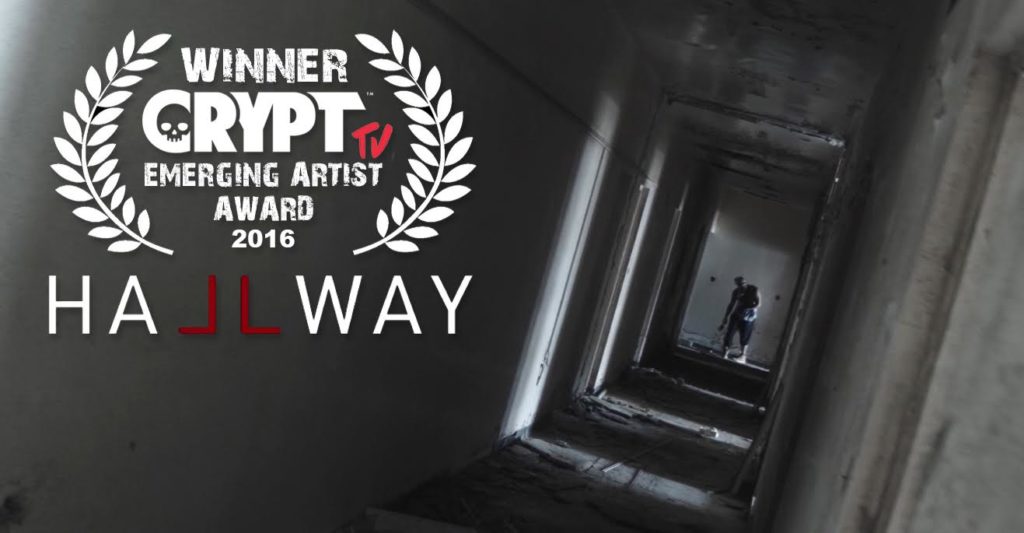 'HALLWAY' WINS EMERGING ARTIST AWARD
Hallway, a four minute short film, has become the official winner of the inaugural CryptTV Emerging Artist Award at the Comicpalooza Film Festival held in Texas. The contest was presented by CryptTV on June 18th. Writer/director Issam Rayess, 22,  will receive a distribution deal for his film.
Rayess, a Syrian national, is currently pursuing his BA at the American University of Sharjah in the United Arab Emirates, and created Hallway as a multi-media project at the university. His school provided him with the hardware, and the short was filmed in an abandoned building, without permits. Though Rayess spent only $50 on props and incidentals, he created a chilling, creepy short that was able to beat out thousands of submissions to the festival.
Hallway synopsis: a man wanders through a decaying structure where he confronts unimaginable terrors. Josh Millican of CryptTV said that "Exquisite editing and a haunting soundscape combine to create a mood of palpable dread. Rayess's ability to distill the quintessential essence of horror into 4 short minutes proves he's a filmmaker of unusual promise."
When asked about his filmmaking inspiration and his hopes for the future, Rayess responded:
"I have a lot of inspirations, especially big Hollywood movie directors such as Christopher Nolan, Steven Spielberg, Eli Roth, Quentin Tarantino and Antoine Fuqua. These big names help me learn for my future films and direct my movies in their style and characteristics. I'd like to start a multimedia company that includes a variety of media like interactive design, filmmaking, and animation. I want to set up in the Emirates and hopefully branch out to other Arab and Gulf countries, to spread the future of multimedia to the next generation."
Watch Hallway
Hallway went live on CryptTV July 7 with exposure to millions of social media fans. Watch Hallway here and follow CryptTV on Facebook and Twitter. CryptTV hopes to establish future partnerships with various upcoming film festivals to continue with their Emerging Artist Award, recognizing the next generation of genre filmmakers.