Composer Ennio Morricone was awarded a Golden Globe for his score in The Hateful Eight. The score was originally written for 1982's The Thing, which has previously only been released as a now out-of-print soundtrack. Quentin Tarantino accepted the award on Morricone's behalf.

According to Consequence of Sound, at a post-screening interview with Christopher Nolan, Tarantino said that The Hateful Eight was his first film that he felt needed its own original score. He reached out to Morricone to score the film, but scheduling conflicts kept Morricone from being able to provide an entirely new score, so he suggested the use of the score that he had created for The Thing that was never used.
"…I wrote a whole orchestra score [for The Thing], and I wrote a whole synthesizer score, because I knew that was what [John Carpenter] was used to," Tarantino said, paraphrasing Morricone, "and I gave him everything, and the only thing he used in the entire movie was the synthesizer main title [track].' So basically, if you stay away from the synthesizer main title, all that music that's on the soundtrack album has never been used in a movie ever. So, he goes, 'What I can do is I'll write the theme… and with the other Thing pieces of music, now you have your original score that's never been used in a movie before.'"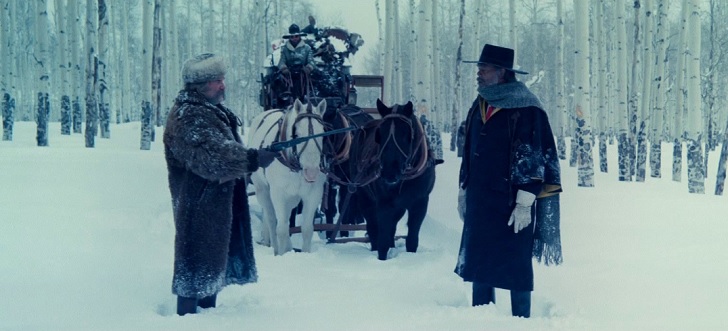 Tarantino revealed that Morricone ended up composing 25 minutes of original score for The Hateful Eight, which was then combined with the unused music created for The Thing. According to Deadline, Tarantino said: "It's not exactly a Spaghetti Western score that Ennio made, nor did I expect it to be. He had made it clear that he wasn't really interested in doing Western scores anymore, which is why I was so taken that he wanted to sit down and talk with me about The Hateful Eight. I knew in my heart it wouldn't be a Western score. I knew he'd respond to the drama of the story and, frankly, he gave me a horror movie score, to some degrees a Giallo score, complete with a diabolical music box that comes in from time to time. It was perfect for the movie."
The Hateful Eight is in theaters now.