DEAD TOWN EPISODE 2 REVIEW
Dead Town Episode 2: "This Must Be the Place"
Last we left off from horror comedy web series Dead Town Episode 1, John, Butty and 80s Dave have discovered that there's a zombie apocalypse and are trying to find John's daughter Emily. The guys are still searching for Emily in "This Must Be the Place", but Butty assures his brother that Emily is well versed in apocalyptic survival skills since he has been teaching her his tricks of the trade whenever she would come to visit.
There are a couple references in this episode that horror connoisseurs are sure to enjoy, with a dig at Vampire Diaries and Dave calling The Lost Boys the greatest vampire movie ever made (that's up for debate, but it certainly was the best of the 80s).
It's starting to get dark so the guys seek shelter. Brittain (Andy Coffey), a strange agoraphobic who claims to be 17 years old but is clearly at least in his 50s, agrees to let the trio stay at his house for the night.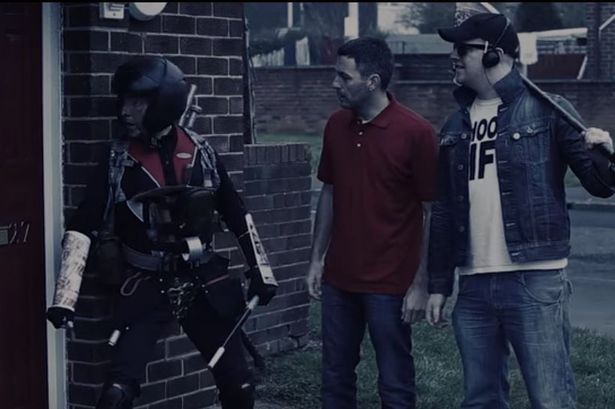 Butty reveals that one of the zombies he killed to save his brother was someone he knew- a complete idiot who drew dicks on newspapers rather than read them- whom Butty saw regularly at a cafe. (He honored his victim by drawing a dick on his face posthumously.)  Butty seems to really be coming in to his own during the zombie outbreak; his dramatic nature suits the new world they're living in. Though his actions seem over the top, he actually has thought through a lot and is careful about his actions and how they could affect him. Call me crazy, but I think I'd want Butty on my team in a zombie apocalypse.
John is basically freaking out- he's stressed about his missing daughter, he's still processing the fact that there's a zombie outbreak, and he's feeling pretty guilty about having been responsible for the deaths of the undead. 80s Dave, on the other hand, is chillin'; he rolls with the punches without giving what's happened much thought, and in fact, he wants to watch Police Academy 1-6 (not  7) before returning to the outside world. Brittain, who has never been outside, is quite astute when it comes to assessing the character of his guests, and accuses Dave of taking on the 80s persona so that people can never really get to know the real him (which, of course, Dave vehemently denies.)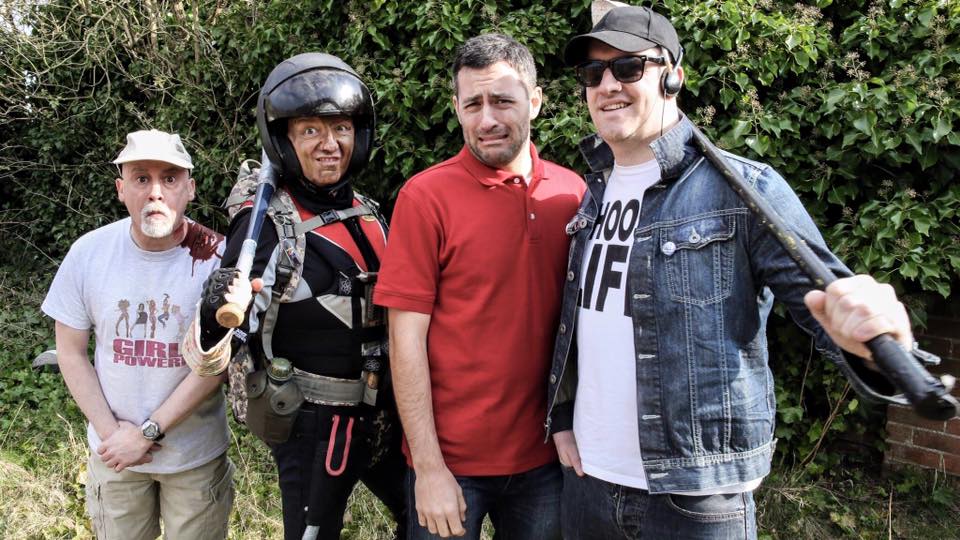 The cast of Dead Town Episode 2 "This Must Be the Place"
80s Dave gives a drunken inspirational speech to Brittain and convinces him to finally leave his house, only for Brittain to get bitten by his own mother who has turned into a zombie. Perhaps this was always Dave's intention, exacting revenge for Brittain calling him out in front of John and Butty.
There were less comedic moments in this episode than the first as this episode focuses more on character development, but the crass humor that I so enjoy is still present. Though Brittain's character was goofy, he exuded a childlike wonder and innocence, and it was pretty sad seeing him go after he finally worked up the courage to go outside. As Dave said: welcome to the real world.
Here's a behind the scenes sneak peek from Dead Town Episode 3:
Behind the scenes vid taken on my phone from last Sundays @DeadTownTV ep 3 shoot, zombie disembowling gag I made pic.twitter.com/3SZmWXSXot

— Andy Savage (@SavageSFX) June 29, 2016