A NIGHTMARE ON ELM STREET: FILM REVIEW
The Nightmare Network
Rating:

9.5

/ 10
A NIGHTMARE ON ELM STREET: FILM REVIEW
A Nightmare on Elm Street (1984)
One of Wes Craven's best films and arguably one of the best horror films of all time (and a personal favorite of mine), A Nightmare on Elm Street certainly gave everyone who watched it something to think about while lying awake at night. Freddy Krueger (Robert Englund), a child killer in the Midwestern suburbs who was burned to death by people in town as vengeance for his crimes, is known as being one of the scariest villains in cinema, thanks not only in part to his image but to an incredible performance by Robert Englund.
Freddy is back for revenge years after his death against the teenage children of the people who killed him. His scarred face and the long knives on his hand are bad enough, but the fact that he preys on you while you are in your most vulnerable state of sleep is truly terrifying, because if Freddy gets you in your dreams, you die in real life. Staying awake is the only way to stay safe in this film, and no one can stay awake forever. Don't trust your friend to watch over you while you sleep, either, because that doesn't seem to ever work.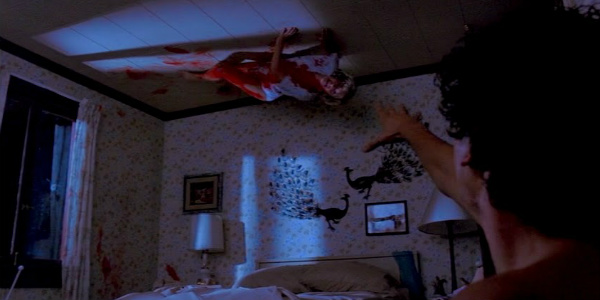 The premise of the film is unique and creative…we all know how scary nightmares can be, and adding an extra element of fear that someone could actually kill you during one is incredibly smart. Another fear that Craven taps into is the notion that if something so frightening were to happen to you, no one would believe you until it was too late. Watching a helpless sleeping friend get ripped apart by Freddy's glove is as scary as it sounds, and when you go the police and they think that you're the one who did it….well, that's just the beginning of your problems.
One of the best aspects of the film is that just when you are sure you know what's going on, you are suddenly made aware that what you've been watching isn't reality and that you're actually viewing someone's dream. The notion that you could be dreaming without knowing it until you're being stalked is truly terrifying to think about.

Jessica's Final Review
9.5
Freddy's legend lives on through the haunting and memorable nursery rhyme that begins "One, Two, Freddy's Coming for You..." The reason for the large number of sequels is clear: no one can get enough of Freddy Krueger, even though he scares you to death.